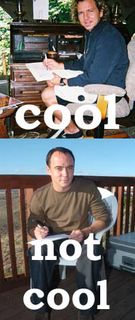 So I just got very excited as I went to the one.org site and signed the declaration and looked at the celebs who signed it and now I feel all important. Like I'm hobnobbing with the rich and famous. But not really.
So go here and sign the declaration.
http://www.one.org/index.aspx
Bono did it. Brad Pitt did it. Eddie Veddar did it. Hell, Isaac Hayes did it. Everyone's doing it!
And yes, I looked past Dave Matthews and No Doubt signing it. They just did it for the publicity!
Oh, and I bought a bunch of those crazy bracelets too, if you are reading this chances are I'm going to try to get you to wear one, you know how I jump on board anything Bono is doing.....