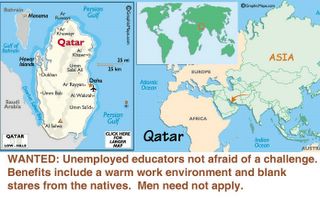 WARNING: POST CONTAINS NEWS THAT YOU MIGHT FIND DISTURBING. RATING BY LORI: V
If you are wondering about the title of today's post, well, I'll be explaining it.
First I want to say that I just read this headline at the AOL Homepage.
"Bink-182 on 'indefinate hiatus'"
Well I don't know if I can even go on with my day after reading this. You know the TV ratings system? Why do we even need that when no one is guarding me from the news media! I think they are the ones that need a rating system and should preface each article with a warning on how devastating it will be to read something. After reading just the headline I already feel like I should go home and crawl right into bed and shelter myself from the cold, cruel world which took away my Blink-182 with no notice.
Onward to news of Qatar. I still get emails from Buff State although most of them have to do with what's going on for undergrads so I usually ignore them. But today I got one with the title "Job Openings in Qatar."
Here is the text:
"We are looking for someone with a background as a school principal to work with three independent girls' schools in Qatar to help improve the capacity of the schools. It would be a sixteen month assignment. We are also looking for a math specialist, a math and science specialist, and an ESL specialist. All three of these positions require someone with classroom experience and also teacher or professional development experience, that is, experience training and developing teachers in each of these specialities. Because they are girls schools, we need to find female candidates for all the positions. I am attaching the scope of work for your information. Any help you can give us is appreciated."
Now I know the Western New York area is slightly depressed in terms of jobs, but did they in all honesty think I'd open this mail up and say sign me up? I know you're thinking I don't even fit the bill, but I can't imagine anyone who would fit the bill who they sent the message to. I got it from the head of the Multi-Disciplinary studies program, and it seems to me they need teachers, and most of the teachers are in, um, the education master's program. But I digress.
Let's say for a second this job was in Rochester. You might say "Oh, Maybe!" But Qatar? Qatar is a peninsula off Saudi Arabia. And you know what it's surrounded by? The Persian Gulf. And you know what that's near to? The Middle East. And what's in the middle east? Iraq. And Iran. And Afghanistan. There I have just listed three places I never want to go.
So I'd like to know this. Who is that damned desperate for a job that they'd accept a position halfway across the world (and that close to the Middle East)? Am I over reacting? Does this seem normal to anyone else? Or am I just a big freak about that whole section of the world because they seem to carry guns like I carry a purse?